+Stats+

Name: Michelle
Age: 15
Height: 5 feet 2 inches
Astrological sign: Capricorn
Likes: Friends, drawing, music, socks
Dislikes: people that suck, and music that...sucks
Talents/Hobbies: anything involving art...
Strengths: I'm not embarrassed to be myself (odd) around strangers, and i can make people laugh...at almost any time.
Weaknesses: I'm very insecure, and seek attention from people...too much.


+Favourites+

Color: Purple
Food: Sushi
Drink: Greentea frap from Starbucks
Season: Winter
Animal: Penguin, and duck
Pass time: Draw, internet, phone, music...
Time of Day: afternoon
Movies: anything Johnny Depp/Tim Burton related
Bands: Linkin Park, HIM, Placebo, Avenged Sevenfold, System of a Down, Orgy, New Found Glory, Story of the Year, old Greenday, The Cure, AFI, Head Automatica, Sublime, The Mars Volta, Streetlight Manifesto, Kittie, Korn, and The Postal Service.


+Questions+

Summarize yourself in one word: Michizzle

Which element (earth, water, wind, fire) would you say you most identify with? wind

Which mood would you say you're most often in?: amused

How easily do you forgive someone?: easily

Are you more secretive, or open-book?: secretive to most people, open to very few.

Are you more shy or outgoing?: Shy at first...

More optimistic or pessimistic?: pessimistic

More energetic or generally tired?: energetic

How much of your past would you like to change/do over again?: Not that much...

What would you say your greatest fear(s) is?: Lonliness

Would you say you're more of a loner, or a people-person?: people person

How arrogant would you say you are?: not at all..

If someone said something rude to you, would you walk away from it or carry it further?: walk away from them

How do you feel about your family?: It can be better

How important is money to you?: It's nessecary to live a semi-happy life.

What would say your biggest plans/dreams are?: Achieving world domination :). Seriously, becoming someone important in the art world...


+The Band+

What are your top five favourite Linkin Park songs and why?:
1. Runaway- I love the lyrics...for some reason. 2. Carousel (demo)- amaxing song, don't know why i think so... 3. From the Inside- once again..i don't know why. 4. My December- Mike's whispers....wow. My birthday is in Dacember, so i feel special. 5. Forgotten (reanimation)- i die a little inside everytime i hear Mike say "the pictures there..." <3

What is your favourite Linkin Park album and why?: Hybrid Theory, the classic...what would i do without it.

What's your favourite LP music video and why? Papercut, i love it's...wierdness...and the blue dude...

Who is your favourite member of the band and why?: MIKE! He's so talented, amazing, he seems to be the nicest guy everrr, the guy can rap pretty flippin' good, and i just love him...


+Pictures+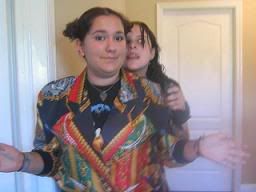 ...im the one with the tacky jacket on.